Pattada
Environment and Nature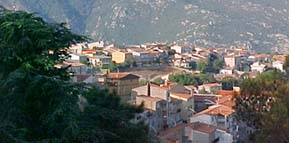 The town of Pattada has a population of 3,500 inhabitants and it is the town at the highest altitude in the province of Sassari (at about 850 m above sea level). Right in the heart of the Sardinia, perched with its shady pine grove overlooking a sweeping and majestic landscape, the town rests on very steep terrain. Its huge territory covers an area of 165 square kilometers and it is famous as a climatically perfect resort for summer holidays.
You can spend unforgettable moments on the shores nearby Lake Lerno where fishing, canoeing and skeet shooting competitions are held or you go on a walking or horseback riding tour in the nearby State Forest of Mount Lerno populated by holm oaks, downy oaks, cork trees, hollies, junipers, strawberry, trees and myrtles.
Here, in the impenetrable vegetation and among its picturesque artificial lakes where silence and quiet rule you can still see deer, mouflons, boars, and wild donkeys and horses along with a wide variety of reptiles and ouzels.
For those fond of nature photography this is truly a heaven on heart. At the summit (1,094 m) you can still see the golden eagle and mallards in their natural habitat.
Cuisine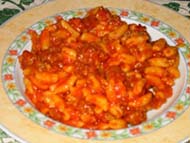 Pattada can also boasts rich traditions in food and agriculture.
Sas peritas
, namely small pears, with a unique and matchless taste are grown. It also offers a rich variety of ricotta cheese and a other cheeses made with ewe milk like
fiore sardo
,
pecorino romano
, and
pecorino sardo
. It also boasts excellent organic cheeses made of the milk of the ewes that graze the green and intact mountain pastures rich in many herbs.
The sweets and pastries include delicious
origliettas ammerradas
(sauteed in honey) as well as other typical Sardinian specialties:
macaroons
,
tiriccas
,
pabassinos
,
casadinas
,
biscuits
and fragrant
seadas
stuffed with fresh cheese. The making of nougat has a long tradition thanks to the production of almonds, walnuts, and hazelnuts as well as excellent mountain honey.
And, of course, local typical breads can be found on every table:
su misturu
(
carasau
bread), and
cozzila
d'elda (a loaf with pork rinds) as well as typical
spianata bread
(
poddine
). Then there are the breads baked on the occasion of All Saints'Day and All Souls'Day like
sas cochitas
, very similar to
su misturu
, but softer owning the potatoes added to the dough.
A typical specialty is
sas pellizzas
, a dish made of fresh pasta with tomato sauce and
pecorino
cheese. Then there are the
maccarroneddos
(Sardinian
gnocchetti
) thath can be eiter
a ungia
,
a battoro
,
a unu poddighe
or
su succu
(fregola)
minudu
and
su succu maduru
. The dishes made with pore mushrooms and pork, kid, boar, and game meat are an unforgettable experience.