Who is Gianpiero Pizzadili
Giampiero Pizzadili is a young pattadese knifemaker. From when he was a child, he had a strong passion for the white arms, because he got an huge collection of old pattadese knives (Resolzas, corrinas e leppas).
In 1996, when he was 15 years old, he started to learn how to create knives; he has attended a course where he learned how to forge the blade and how to made the haft. Then, in the spare time from school, Giampiero continued to improve its technique to correct the imperfections that were yet in its knives; when he learnt how to create the ring, finally he could to come true all he learnt previously.
In 2005, Giampiero decided to open its own workshop, where he creates the classic pattadese model and other kind of knives: also he made knives on customers'request.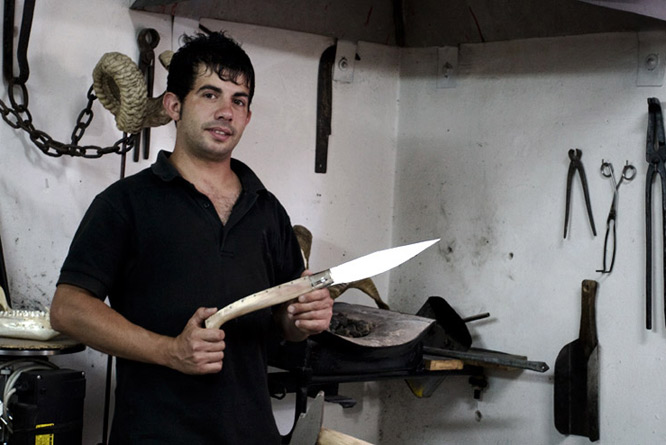 Giampiero Pizzadili shows one of his knives.
Knife with haft golden ram horn, blade steel 440C 22cm, alpaca ring, total lenght 47cm.